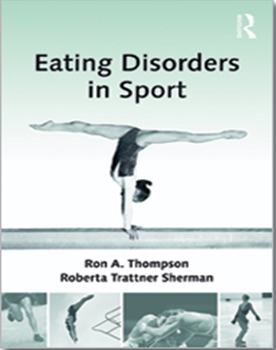 Excelente obra
Authors: Ron Thompson, Roberta Sherman
Product Code: EIS
Availability: In stock.
Final del formulario
276 pg, hardcover, '10
These foremost authorities on eating disorders and athletes have authored a new, definitive text on this topic. They begin by identifying and marrying together the two "worlds" of sport psychology and eating disorders prevention and treatment. Following is a series of chapters that present the various forms of clinical eating disorders, current literature on research and prevalent data, and risk factors in both general and sport-related populations. The core of the volume then describes Identification, Management, Treatment, Prevention, and Medical considerations.
TABLE OF CONTENTS:
1 - Introduction
2 - Eating Disorders: Clinical and Subclinical Conditions
3 - Eating Disorders and Disordered Eating in Sport: A Review of the Literature
4 - Risk Factors for the Development of Problem Eating
5 - Identification of Eating Disorders and Related Conditions
6 - Management of Eating Problems in the Sport Environment
7 - Treatment Issues
8 - Medical Considerations
9 - Prevention and Education
ABOUT THE AUTHORS:
Ron A. Thompson, PhD, FAED, and Roberta Trattner Sherman, PhD, FAED, are psychologists in private practice in Bloomington, IN. They have worked with Sport Groups such as IOC Medical Commission and the NCAA regarding eating disorders among athletes.
REVIEWS:
"With this excellent and important book, the authors remind us that there is a fine line between striving towards peak physical conditioning and harming oneself in the process. This is sure to be an invaluable tool for all medical, psychological, and sports professionals who share the common goal of ensuring the health and fitness of all competitors."
- Patrick Schamasch, MD, Medical & Scientific Director, International Olympic Committee
"Once again, Ron and Roberta team up to share their wonderful expertise, insights, and knowledge to give a clear view into the confusing and often frustrating world of eating disorders in sport...I recommend this book as a wonderful resource for anyone whose life is touched by an eating disorder in any way."
- Kimiko Soldati, Olympic Diver, 2004 Olympic Games in Athens, Greece
"Thompson and Sherman have crafted the definitive opus on eating disorders and sport. Their review of the field is comprehensive, scholarly, and accessible. The wisdom they have earned through decades of clinical experience is reflected in their deep respect for professionals in both the sports and health arenas."
- Cynthia M. Bulik, PhD, FAED, Jordan Distinguished Professor of Eating Disorders, University of North Carolina at Chapel Hill
García Ucha