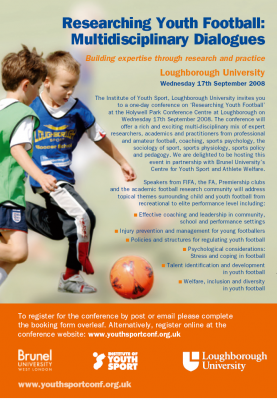 RESEARCHING YOUTH FOOTBALL: LOUGHBOROUGH WEDNESDAY SEPTEMBER 17TH 2008
Registration is now open for the Researching Youth Football conference at Loughborough University in September 2008.
The conference will bring together 120 of the foremost researchers, policymakers and practitioners in youth football to showcase research and exchange ideas and expertise in a multi-disciplinary event that examines youth football through the perspectives of sport policy, sociology, coaching, pedagogy, sports psychology and physiology. Plenary presentations in the morning will be followed in the afternoon by parallel streams in coaching/pedagogy and sociology/sports policy. Confirmed speakers include representatives of the FA, FIFA and Premiership Clubs - along with a health mix of academics!
The conference website is about to go live. In the meantime, you can register by completing the attached registration form (this is a simple Word document) and returning it be email, or downloading it and posting it to us. The registration is also available as hard copy on the conference flyer. Early bird registrations (£85) are available until the end of July with discounted rates (£45) for students. Our previous Researching Youth Sport conference sold out so please book sooner rather than later!
European colleagues may like to note that the conference site at Loughborough University is less than 10 minutes drive from Nottingham East Midlands airport to which there are regular flights from many European cities. Maybe you can join us!
We look forward to seeing you in Loughborough in September.
Tess Kay
Conference Chair
Dr. Tess Kay
Deputy Director, Institute of Youth Sport
School of Sport and Exercise Sciences
Loughborough University
Loughborough
Leicestershire
LE11 3TU
Partially deaf: email much preferred
SSES central office: +44 (0)1509 226302/3
Managing Editor, Leisure Studies