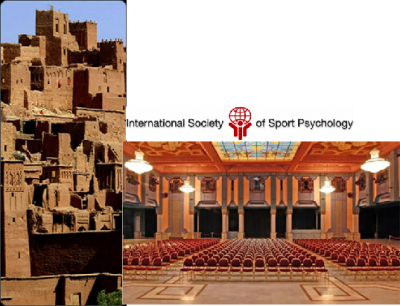 THE MOROCCAN ASSOCIATION OF SPORT PSYCHOLOGY ORGANIZE
THE 12TH WORLD CONGRESS OF SPORT PSYCHOLOGY
UNDER THE THEME
Meeting New Challenges and Bridging
Cultural Gaps in Sport and Exercise Psychology
17 - 21 JUNE 2009
MARRAKESH MOROCCO
GENERAL THEMES
Exercise and sport Psychology:
• Performance enhancement and psychological preparation
• Applied issues
• Mood and Emotions in sport
• Burn out and overtraining
• Injury rehabilitation
• Psychological Benefits of Exercise
• Stress and Quality of Life
Social Psychology of exercise and sport
• Group Dynamics
• Cohesion
• Communication Skills
• Morality in sport
Psychology of Coaching
Motor Control/Learning
• Motor Development
• Skill Acquisition
Psychopathology in Sport & Exercise
• Exercise in Psychotherapy
• Exercice, Health and well being
Life-span development issues
• Career development and career Transitions in sport
• Psychological Aspects of Youth Sport
• Aging
Please check the official congress website at http://www.issp2009.com/ for updated information and further details.
Keynote Speakers
Confirmed Keynote Speakers
1. Nawal El Moutawakel, Minister of Youth and Sport, Olympic Champion, Morocco
2. Artur Poczwardowski, (Ph.D): Barry University, USA
3. Craig A. Wrisberg, (Ph.D): University of Tennessee, USA
4. Edward L. Deci (PhD): University of Rochester, NY, USA
5. Gershon Tenenbaum, (PhD): Florida State University, USA
6. Howard K. Hall (PhD): University of Bedfordshire, U.K
7. Packianathan Chelladurai, (Ph.D). Ohio State University, Columbus, U.S.A.
Congress President
Abderrahim Baria
Congress Director
El Hassane Nabli
Congress Counsellor
John H. Salmela
Promotion
Karim Guessous & Lahcen Oubahammou
Marketing
Mounir Bennis
Manager
Comanav Voyages
Members
Abdelhafed EL Ouartassi, Chabba Riahi, M'hammed Karkour, Larbi El Bakraoui, Ahmed Louizi, Salah Moutib and Mohammed Madani.
Scientific Committee
Dieter Hackfort, Sidonio Serpa, Judy Van Raalte, Gershon Tannenbaum, Ronnie Lidor, Athanasios Papaioannou, Abderrahim Baria and El Hassane Nabli.
http://www.issp2009.com/congress_secretariat/marrakesh@issp2009.com