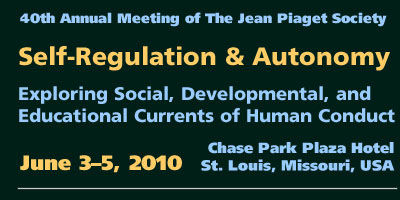 NEWS: Student & New Scholar Conference Travel Awards [more...]
Join social scientists and educators from around the world as they explore new and compelling research on the development of self-regulation and autonomy.
Like the major rivers that meet in St. Louis, self-regulation and autonomy represent a special confluence in the study of human conduct. The Jean Piaget Society has invited a distinguished group of scholars to share their work and guide our exploration of the social, developmental, and educational currents of this year's conference theme.
Featuring Presentations by:
Richard M Ryan, University of Rochester
Motivation and development go to school: How classroom environments affect student engagement, well-being, and performance
Edward L Deci, University of Rochester
The importance of autonomy for development & well-being
Wendy S Grolnick, Clark University
Facilitating self-regulation in the family: Balancing socialization and autonomy goals
Charles S Carver, University of Miami
Serotonergic function and dual process models of self-regulation: What impulsive aggression and depression have in common
Larry P Nucci, University of California, Berkeley
'It's a part of life to do what you want:' The role of personal choice in social development
R Keith Sawyer, Washington University in St. Louis
Constructivism and creativity: Social processes that promote individual autonomy
And invited symposia organized by:
Clancy Blair, New York University
The developmental relations between cognitive & affective aspects of self-regulation
Stephanie Carlson, University of Minnesota
Self-regulation and school success
Jeremy Carpendale, Simon Fraser University
Social interaction and moral normativity
Jack Martin, Simon Fraser University
Developmental perspectives on human agency
Ask us about Continuing Education Units!
Scholars interested in knowledge and development are invited to participate whatever their discipline. Submissions need not address the program theme - all submissions are welcome.
To participate please view the Call for Program Proposals
Conference Organizers:
Bryan Sokol (St. Louis University)
Frederick Grouzet (University of Victoria)
Ulrich Müller (University of Victoria)