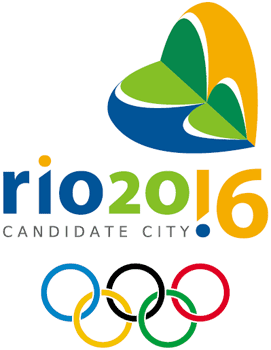 "En el mundo moderno, lleno de poderosas posibilidades que al mismo tiempo amenazan con peligrosas decadencias, el Olimpismo puede constituir una escuela de nobleza y pureza morales, tanto como de resistencia y energía físicas, a condición de que elevéis siempre vuestra idea del honor y del desinterés hasta la altura de vuestro vigor muscular"
Barón Pierre de Coubertain (1863 - 1937).
Padre de los Juegos Olímpicos modernos.
Noticia tomada de La Web del Comité Olímpico Internacional
Rio de Janeiro Elected As 2016 Host City
The city of Rio de Janeiro has been elected as the Host City of the Games of the XXXI Olympiad in 2016 following a vote by the International Olympic Committee (IOC) Session. IOC President Jacques Rogge made the announcement at the close of the first day of meetings of the IOC's 121st Session in Copenhagen, Denmark. Rio de Janeiro received 66 votes compared to Madrid's 32 in the final round of voting.
"Well done, Rio!"
Following the election, Rogge said, "I would like to congratulate the city of Rio de Janeiro on its election as the host of the 2016 Olympic Games. Rio de Janeiro presented the IOC with a very strong technical bid, built upon a vision of the Games being a celebration of the athletes and sport, as well as providing the opportunity for the city, region and country to deliver their broader long-term aspirations for the future. This call to "live your passion" clearly struck a chord with my fellow members, and we now look forward to seeing Rio de Janeiro staging the first Olympic Games on the continent of South America. Well done, Rio!" He continued, "I would also like to thank Nawal El Moutawakel and her Evaluation Commission team for the excellent work that they undertook and which allowed us to reach today's decision."
Games of Celebration and Transformation
The Rio 2016 Games will be, first and foremost, a celebration of athletes, who will perform in world-class venues all located in the host city itself. The Rio Games will also celebrate and showcase sport, thanks to the city's stunning setting and a desire to lift event presentation to new heights. At the same time, Rio 2016 will be an opportunity to deliver the broader aspirations for the long-term future of the city, region and country - an opportunity to hasten the transformation of Rio de Janeiro into an even greater global city.
A Sporting Celebration
Rio 2016 will provide the best possible environment for peak performances. Athletes will enjoy world-class facilities, including a superb village, all located in one of the world's most beautiful cities, in a compact layout for maximum convenience. The competition venues will be clustered in four zones - Barra, Copacabana, Deodoro and Maracanã - and connected by a high-performance transport ring. Nearly half of the athletes will be able to reach their venues in less than 10 minutes, and almost 75 per cent will do so in less than 25 minutes. Of the 34 competition venues, of which 18 are already operational, eight will undergo some permanent works, seven will be totally temporary and nine are constructed as permanent legacy venues.
The Vote
The IOC members made their choice for 2016 following a long and detailed process, which included the presentations made today by the cities of Chicago (United States), Tokyo (Japan), Rio de Janeiro (Brazil) and Madrid (Spain)*, a report and presentation from the IOC's 2016 Evaluation Commission, chaired by Nawal El Moutawakel, the Candidature files of each city, and a technical meeting for the IOC members held in Lausanne this June.
* Cities are listed in the order of drawing of lots as performed by the IOC Executive Board in December 2007.

Results of the vote:

Round 1
Madrid: 28 votes
Rio de Janeiro: 26 votes
Tokyo: 22 votes
Chicago: 18 votes

Round 2
Tokyo: 20 votes
Rio de Janeiro: 46 votes
Madrid: 29 votes
Round 3
Rio de Janeiro: 66 votes
Madrid: 32 votes