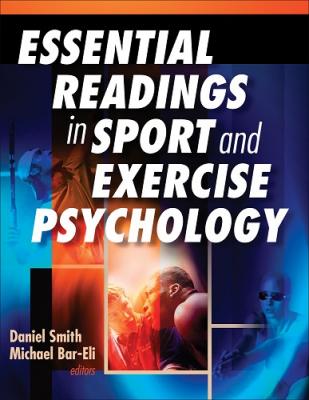 Essential Readings in Sport and Exercise Psychology.
Daniel E. Smith, Michael Bar-Eli
Copyright 2007 ISBN: 0736057676
ISBN13: 9780736057677
Table of Contents
Part I: Understanding the Historical Foundations
1. The Dynamogenic Factors in Pacemaking and Competition
Norman Triplett
2. The Relation of Strength of Stimulus to Rapidity of Habit Formation
Robert M. Yerkes and John D. Dodson
3. Getting Ready to Coach
Coleman Griffith
4. America's First Sport Psychologist
Wa
5. About Smocks and Jocks.
Rainer Martens
Part II: Understanding Individual Differences Among Sport Participants
6. The Trait Psychology Controversy
William P. Morgan
7. Emotions and Athletic Performance: Individual Zones of Optimal Functioning Model
Yuri L. Hanin
8. A Multidimensional Theory of Competitive State Anxiety
Rainer Martens, Damon Burton, Robin S. Vealey, Linda A. Bump, and Daniel E. Smith
9. Motivation in Sport Settings: A Goal Perspective Approach
Joan L. Duda
10. Does the Iceberg Profile Discriminate Between Successful and Less Successful Athletes? A Meta-Analysis
Allan J. Rowley, Daniel M. Landers, L. Blaine Kyllo, and Jennifer L. Etnier
11. Personality and Intellectual Capabilities in Sport Psychology
Gershon Tenenbaum and Michael Bar-Eli
Part III: Understanding Sport and Exercise Environments
12. Peak Experiences in Sport
Kenneth Ravizza
13. Cooperative Games: Systematic Analysis and Cooperative Impact
T.D. Orlick, Jane McNally, and Tom O'Hara
14. Behavioral Research and Intervention in Youth Sports
Ronald E. Smith and Frank L. Smoll
15. Factors Influencing the Occurrence of Flow State in Elite Athletes
Susan A. Jackson
16. Intrinsic and Extrinsic Motivation in Sport: Toward a Hierarchical Model
Robert J. Vallerand and Stéphane Perrault
Part IV: Understanding Group Processes
17. Team Performance Outcome and the Cohesiveness of Competitive Coacting Groups
Daniel M. Landers and Günther Lüschen
18. Cohesiveness and Performance in Sport Groups
Diane L. Gill
19. Dimensions of Leader Behavior in Sports: Development of a Leadership Scale
Packianathan Chelladurai and S.D. Saleh
20. The Development of an Instrument to Assess Cohesion in Sport Teams: The Group Environment Questionnaire
Albert V. Carron, W. Neil Widmeyer, and Lawrence R. Brawley
21. Building Bridges for Disengagement: The Transition Process for Individuals and Teams
Steven J. Danish, Susanna S. Owens, Scott L. Green, and John P. Brunelle
Part V: Enhancing Performance
22. The Arousal-Performance Relationship Revisited
Daniel M. Landers
23. The Effects of Mental Practice on Motor Skill Learning and Performance: A Meta-Analysis
Deborah L. Feltz and Daniel M. Landers
24. The Application of Sport Psychology for Performance Optimization
Daniel Gould and Robert C. Eklund
25. Mental Training With Children for Sport and Life
Terry Orlick and Nadeane McCaffrey
26. The Coleman Roberts Griffith Address: Three Myths About Applied Consultancy Work
Lew Hardy
27. Imagery Use by Athletes: Development of the Sport Imagery Questionnaire
Craig R. Hall, Diane E. Mack, Allan Paivio, and Heather A. Hausenblas
28. Reliability and Validity of the Attentional and Interpersonal Style (TAIS) Inventory Concentration Scales
Robert M. Nideffer
29. Self-Confidence and Sports Performance
Deborah L. Feltz
30. Future Directions in Psychological Skills Training
Robin S. Vealey
31. Effect of Goal Difficulty, Goal Specificity and Duration of Practice Time Intervals on Muscular Endurance Performance
Michael Bar-Eli, Gershon Tenenbaum, Joan S. Pie, Yaacov Btesh, and Asher Almog
Part VI: Enhancing Health and Well-Being
32. Toward a Cognitive-Affective Model of Athletic Burnout
Ronald E. Smith
33. A Model of Stress and Athletic Injury: Prediction and Prevention
Mark B. Andersen and Jean M. Williams
34. Historical and Conceptual Roots of Exercise Psychology.
W. Jack Rejeski and Amy Thompson
35. Increasing Physical Activity: A Quantitative Synthesis
Rod K. Dishman and Janet Buckworth
36. Psychological Effects of Endogenous Testosterone and Anabolic-Androgenic Steroids
Michael S. Bahrke
37. Social Influence and Exercise: A Meta-Analysis
Albert V. Carron, Heather A. Hausenblas, and Diane E. Mack
38. Exercise Motivation Across the Life Span
Stuart J.H. Biddle
Part VII: Facilitating Psychological Growth and Development
39. Coach Effectiveness Training: A Cognitive-Behavioral Approach to Enhancing Relationship Skills in Youth Sport Coaches
Ronald E. Smith, Frank L. Smoll, and Bill Curtis
40. Understanding Attrition in Children's Sport
Daniel Gould
41. Sport as a Context for Developing Competence
Steven J. Danish, Albert J. Petitpas, and Bruce D. Hale
42. Can Sports Build Character?
David Light Shields and Brenda Light Bredemeier
43. Toward a Multidimensional Definition of Sportsmanship
Robert J. Vallerand, Paul Deshaies, Jean-Pierre Cuerrier, Nathalie M. Briere, and Luc G. Pelletier
44. "That's What Friends Are For": Children's and Teenagers' Perceptions of Peer Relationships in the Sport Domain
Maureen R. Weiss, Alan L. Smith, Marc Theeboom
Part VIII: Understanding Professional Issues
45. Science, Knowledge, and Sport Psychology
Rainer Martens
46. Critical Issues Confronting the Advancement of Applied Sport Psychology
John M. Silva III, David E. Conroy, and Samuel J. Zizzi
47. Applied Sport Psychology: Issues and Challenges
Robert S. Weinberg
48. The Coleman Roberts Griffith Address: Toward the Integration of Theory, Research, and Practice in Sport Psychology
Albert V. Carron
49. Ethical Beliefs and Behaviors in Applied Sport Psychology: The AAASP Ethics Survey
Albert J. Petitpas, Britton W. Brewer, Patricia M. Rivera, and Judy L. Van Raalte
50. Certification in Sport and Exercise Psychology
Samuel Zizzi, Leonard Zaichkowsky, and Frank M. Perna