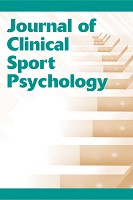 The Journal of Clinical Sport Psychology (JCSP) is intended to be a scholarly refereed journal designed to stimulate thought, promote empirical investigation, and disseminate scientifically informed knowledge related to the comprehensive psychological care and overall well-being of athletes, coaches, and sport organizations. Included will be topics relating to psychological health and well-being of athletes and coaches, psychological aspects of athletic performance, as well as issues and concerns that connect physical and psychological functioning. To subscribe to either the print or e-version of JCSP, press the Subscribe or Renew button at the top of your screen or follow this link http://www.humankinetics.com/products/journals/index.cfm
ISSN: 1932-9261 (print); 1932-927X (online)
Frequency: Quarterly (March, June, September, and December)
Editor:
Frank Gardner
La Salle University
1900 Olney Ave.
Philadelphia, PA 19141
Phone: (215) 951-1350
E-mail: gardner@lasalle.edu
Volume 1, Issue 4 (December 2007)
A Psychiatric Perspective on Athletes With Eating Disorders
Alan Currie
Psychosocial Correlates of Disordered Eating Among Male Collegiate Athletes
Trent A. Petrie, Christy Greenleaf, Jennifer E. Carter, Justine J. Reel
The Female Athlete Triad: Is the Triad a Problem Among Division I Female Athletes?
Justine J. Reel, Sonya SooHoo, Holly Doetsch, Jennifer E. Carter, Trent A. Petrie
Evidence-Based Interventions for the Treatment of Eating Disorders
Zella E. Moore, Raquel Ciampa, Jaime Wilsnack, Elizabeth Wright


JCSP, 1(4), December 2007, Copyright © 2007
Personality Traits Relate to Heading Frequency in Male Soccer Players
Frank M. Webbe, Shelly R. Ochs
Figure Skating: A Different Kind of Youth Sport
Lori F. Cummins


Personality Traits Relate to Heading Frequency in Male Soccer Players
Frank M. Webbe, Shelly R. Ochs
Abstract
Concussions in soccer are often coincident with the act of heading the ball, and some researchers have reported that soccer heading is associated with neurocognitive decrements. This study aimed to understand (a) the personality factors that may predict frequent soccer heading, and (b) how knowledge of players' personality traits might help sport counselors persuade neurologically at-risk players to moderate their heading behavior. Sixty elite male soccer players (ages 16-34) completed structured self-report interviews, the NEO-FFI personality inventory, and the Arnett Inventory of Sensation Seeking. Players who headed most had significantly higher extraversion scores than comparison athletes and soccer players who headed less. Physical height was the best predictor of heading frequency but was not correlated with extraversion, which was also a significant predictor. Players with the typical profile of the high heading group may be more resistant to suggestion that they alter their style of play for safety reasons.